When:
May 19, 2013 @ 12:00 am – 10:00 am
2013-05-19T00:00:00+00:00
2013-05-19T10:00:00+00:00
Where:
San Mateo Event Center
Saratoga Drive
San Mateo, CA 94403
USA

Cost:
$24 with group discount code MFBA13Group
Contact:
Gabriel Serafini
(415) 640-5984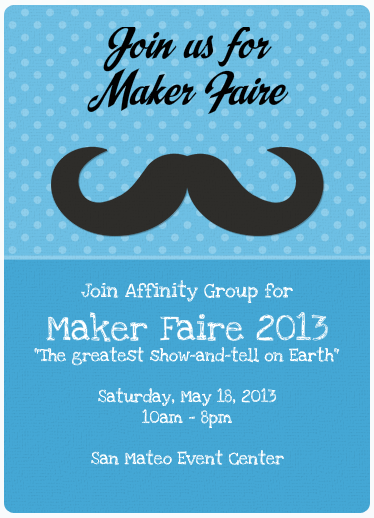 Join us for a fun day at Maker Faire with dinner afterwards!
Maker Faire is a fun and interactive fair where exhibitors come to show their imaginative creations (from a wide variety of genres) and share their experiences!
For more information, check out their website:http://MakerFaire.com
Maker Faire consists of over 900 "tech enthusiasts, crafters, educators, tinkerers, hobbyists, engineers, science clubs, authors, artists, students, and commercial exhibitors" who will be sharing their artistic creations and talking about their processes. Most of the booths / exhibits are interactive!
It is a ton of fun for people of all ages, so this is an Affinity "Family Inclusive" event. Anyone of any age is welcome, so bring your family and friends!
Tickets are $24 for adults, $16 for students (with our discount). Order tickets online here:http://makerfaire2013.eventbrite.com
Get 20% off with our discount code:MFBA13Group. This code is only good if you buy the tickets online. Tickets are cheaper online than if you order at the gate, so don't wait!
We plan to meet up for dinner at Taste In Mediterranean Food at 7pm. It's about 5 miles away from Maker Faire. Here's the Yelp link if you'd like to check them out:http://www.yelp.com/biz/taste-in-mediterranean-food-burlingame-2
Taste In Mediterranean Food
1199 Broadway, Ste 1
Burlingame, CA 94010
Map / Directions: http://goo.gl/maps/jrLjy
Please RSVP by May 15 so we can get an accurate count for the dinner reservation.
We look forward to seeing you at Maker Faire!
Have any questions about this event?
Gabriel Serafini
Affinity Board
(415) 640-5984
—
"DiscoveryBound's Affinity Group offers fun ways to get together with other Bay Area young adults in their 20's and 30's who have a connection to Christian Science"