When:
May 1, 2017 @ 5:00 pm – 6:30 pm
2017-05-01T17:00:00-07:00
2017-05-01T18:30:00-07:00
Where:
Woodland Community College
2300 E Gibson Rd
Woodland, CA 95776
USA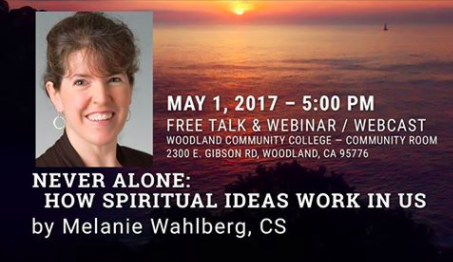 Welcome to the Healing 101 Seminar series! On Monday May 1, 2017 at 5:00pm Melanie Wahlberg, CS will be speaking on "Never Alone: How Spiritual Ideas Work in Us".
You can either attend this seminar for free in person (no ticket necessary) on the Woodland Community College campus at 2300 E. Gibson Road, Woodland, California OR watch Melanie speak online for free by registering at https://app.webinarjam.net/register/25339/2571f629fa
If you are able to attend this event in person, there will be free pizza and refreshments available. There will also be a limited number of free annual Christian Science Monitor subscriptions given out throughout this lecture series.
You can find out more details regarding each talk in this series and register for the other webinars on our website at http://healing101.sharethepractice.org or on our Facebook page at https://www.facebook.com/Healing101series